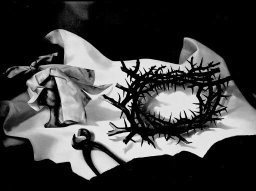 Lent and Holy Week are very important at St. Augustine's. It is really the center of our year. As much as you are able, please set aside time, book off work, bring the kids, and walk this way together.
There is no denying it - Lent and Holy Week are hard work. But it is good work that draws us into spiritual health, faithfulness to God, and deepened relationship with Jesus.
February 26 - Ash Wednesday, 7pm, which includes the imposition of ashes (of course, come for pancakes the day before!)
The Sundays of Lent, 8am and 10am. (the 5th of which will include anointing for healing) We remember Jesus' 40 days wrestling with Satan in the wilderness. Through the scriptures, we remember our own wrestling and fighting to offer God our whole selves.
April 5 - Palm / Passion Sunday: the Sunday before Easter which begins Holy Week. We mark this day with a symbolic process of palms. Most strikingly, we read the entire passion story aloud and participate together in this difficult remembrance. **please watch out for details on when we will go gather local 'palms' in the river valley for our celebration.
April 9 - Maundy Thursday 6:30pm. We remember this night the last supper and how the disciples fled Jesus at his arrest. A light meal will be served before the service.
April 10 - Good Friday, 1pm. Why 'good' - because in Christ we see God's full solidarity with humanity laid bare on the cross. We mark this day with a simple pattern the stations of the cross. All present are welcome to share in the readings and participate as we make our journey together.
April 11 - multi-church Easter Vigil 7pm

@ St. Patrick's Anglican Church

(

334 Knottwood Road North NW) We gather, like pilgrims, to hear the stories of our faith history leading up to the time of Jesus. In this long resurrection service, we hear many passages of scripture, mark the moment of resurrection, and share in the first Eucharist of the Easter season! A great time to be together with St. Patrick's and St. David's church communities together.

Easter Sunday, 8am & 10am, of course, which begins 50 days of celebrating the resurrection.
Note - Maundy Thursday, Good Friday, and the Easter Vigil services all kind of blend together into one. It is a real gift to walk through all of them in succession in community. Kids are welcome at all of them, the Easter Vigil is long and late, but, hey, it is the resurrection.